3 min read
5 Things You Can Learn from the COVID-19 Pandemic to Prepare for the Future
This year has been a learning experience for us all. With massive lockdowns of cities globally to protect its citizens, the COVID-19 pandemic forced most of us to learn new ways to work. While a majority of people with "desk jobs" were sent home to work remotely, manufacturing personnel were deemed essential workers, exempting them from statewide stay-at-home or shelter in place mandates. But even the manufacturing industry had to adapt and find new ways to work while protecting critical operations and engineering staff from the spread of the virus.
COVID-19 is likely not the last pandemic that we will experience. With that in mind now is the time to codify the best practices into a plan for a future pandemic. Here are some of the steps some of our customers have taken to keep their business moving forward.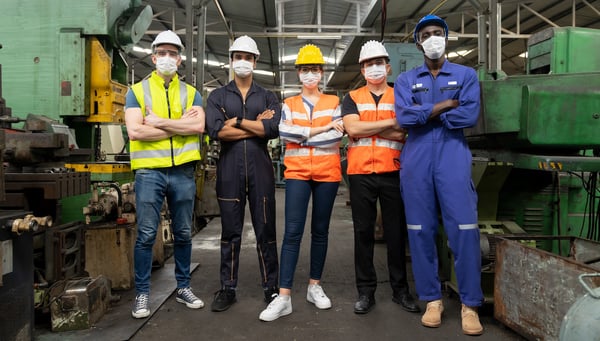 1. Split Your Organization into Teams
To help your employees distance themselves from one another, divide your existing teams into smaller teams. Split the hours that teams are working in your facility (either by working during separate shifts or on separate days, with the other teams working remotely on they days they're offsite), so that these smaller teams do not have any physical interaction with the other teams. By limiting your employees' exposure to each other, you can help to prevent the spread of a virus and can more easily contain any outbreaks that may occur. This may require supplementing your staff with the help of a local instrument shop or local systems integrator.
2. Institute Remote Viewing for Your Team
In your effort to minimize the number of personnel in your facility, you may have process engineers working from home. To keep them connected and allow them to see what your operators are seeing, set up a portal with remote access to your operations. Many SCADA and DCS vendors offer portal products that are compatible with your existing system. We recommend read-only access that will allow engineers to view graphics, examine trends, and review alarm status, while still preventing them from unintentionally disrupting a running process. As an added benefit, having an established remote viewing portal can make troubleshooting late at night when your process engineers aren't typically in the office easier.
3. Take Advantage of Remote Plant Management and Engineering Tools
In addition to SCADA and DCS portal tools, there are other technologies that you can use to help facilitate remote management of your facility. These tools can be implemented in your everyday operations as well.
Asset Management Software: An asset management system can allow you to be notified and to track changes in your PLCs, HMIs, and drives.

Manufacturing Execution System (MES): An MES can collect real-time manufacturing data from feedback on your floor and operations for plant managers and engineers to monitor.

Network Monitoring: Network monitoring software and network appliances can provide early warning for potential issues, as well as provide a historical record of previous problems.
4. Build a Backup Control Room
Another way to help promote social distancing and to keep your team safe is to build a backup control room. Virtualization and thin client technology can be helpful in this situation so that sessions can be shared between the primary and backup control rooms to minimize the need for additional licenses. This backup control room can help you to keep your teams safe by allowing one room to be cleaned while the other is in use. In addition, a backup control room can be used in case of an emergency in which the primary control room cannot be accessed.
5. Establish Temporary Access for Contractors
Limiting the onsite activities of outside contractors is one of the easiest ways to protect your employees, but can be impractical if you depend on support from contractors for troubleshooting or maintenance. For companies that allow remote access this is less of a problem. For those that do not generally allow remote access, we recommend establishing a temporary method of accessing the plant floor in the event of a pandemic (or other emergency). Properly planned, this could provide for the support needed for the manufacturing operation without compromising network security.
As an example, in the beginning of the pandemic, one of our customers virtually guided one of our engineers onto their system. The customer became the hands while our engineer watched and provided instruction on how to troubleshoot a problem.
Planning Ahead
COVID-19 is not the first global pandemic and, history tells us, it will not be the last. With the increasing globalization of our world, the likelihood of a similar pandemic in the not-so-distant future is high. The Coronavirus has shown us the importance of having a pandemic response plan that has been thoroughly tested and frequently reviewed. A response plan begins with a set of "what if…" questions. Don't wait until another pandemic is looming – ask these questions and brainstorm potential solutions now while ideas are fresh.
Contact us today to start a discussion with a system integrator about how your system could be improved for easy adaptability to future pandemics.